Born in 1989, one of the first companies in Italy to make towel warmers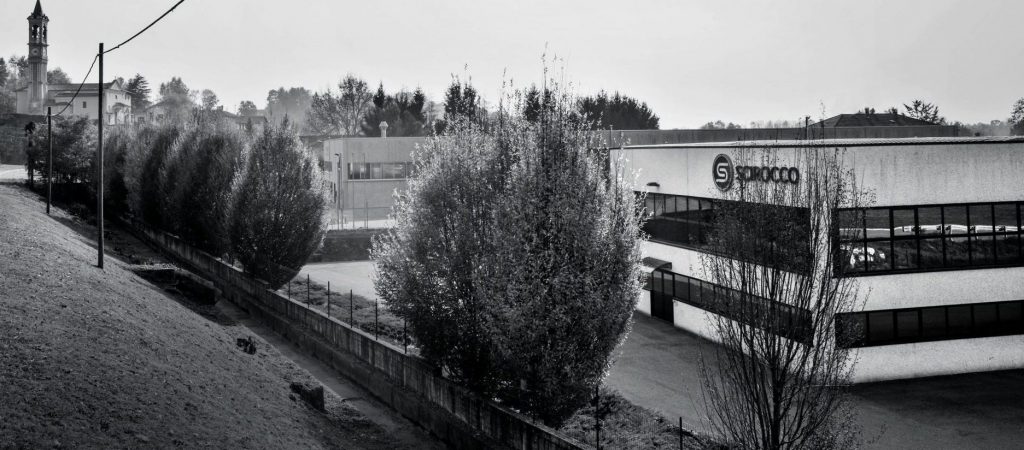 It all started with the intuition of Maria Pia Bertona, who decided to venture into the world of radiators, founding what would become today's Scirocco H in 1989, in the Province of Modena. One of the first in Italy to produce towel warmers, the company has, over the years, perfected its own blend of technical know-how, engineering, aesthetics and design.
In 1999, the company moved to Gattico, in the Province of Novara, situating itself within the leading Italian cluster for the production of taps and valves. A turning point then came in 2013 as Filippo Arbellia, son of the founder, took over the management of the company together with new partner Sabrina Mora, breathing new life into the style and design trajectory of Scirocco H.
Over the years, the company has dedicated itself with perseverance to the pursuit of new designs, materials and technologies, in the name of constructive, functional and expressive excellence, thus giving continuous rise to its iconic Scirocco H radiators. By adding high aesthetic value to functionality, the company's collections transform the radiator from an object for which efficiency is the determining factor into a product that perfectly combines function and the most sophisticated design, converting it from being a mere service object, to be hid away in a corner, into a true work of art to take pride of place in any bathroom.
Fine examples of this include Snake, with its unmistakable serpentine silhouette, Graffe, which completely rethinks an everyday object such as a paperclip, and Winter, an innovative brass towel warmer that makes a sophisticated connection between upright and horizontal pipes, making it a unique product with impeccable weld-free aesthetics.
These are just to mention a few of the most famous, joined in recent years by Brick, which just like a construction toy, can be combined with other colourful pieces to create different configurations, New Dress, a heating body with a chameleon-like design, and, last but certainly not the least, Donut and its portable version Donut BAG, heated furniture with a perfectly geometrical shape inspired by the famous American treat.
Tiffany, on the other hand, deserves a chapter of its own of course. The designer radiator made entirely of cast iron, with large brass valves, is a historic product for Scirocco H and among the most demanded on the market, becoming, in 2018, the symbol of a new category of products, Style & Soul, a sublime collection inspired by the Art Nouveau artistic and philosophical movement.
"In the coming years, research and development will be fundamental in creating products that are always at the highest quality levels," comments Filippo Arbellia, Director and Partner of Scirocco H. "We are focusing more and more on creating heated furniture that can stimulate the emotional as well as rational sphere. Products that become fundamental for the home, and not only, that can create a general atmosphere of warmth and well-being, and that are beautiful to see and admire in any environment you decide to put them into."
"We are going to further develop electrically powered products, attentive to the development of new technologies," adds Sabrina Mora, Director and Partner of Scirocco H, "as well as portable and free-standing products, extending the choice and, why not, also creating a new dedicated collection."
The aesthetic, constructive and functional quality of Scirocco H designer radiators is particularly recognized by the hospitality and contract world. Various leading Italian and international hoteliers, such as JW Marriott, Mandarin Oriental and VIU Milan, and the prestigious architectural firms that build their hotels, such as Studio Matteo Thun and Partners, Studio Antonio Citterio Patricia Viel and Partners and Studio Arassociati, repeatedly rely on Scirocco H products to heat and furnish their most luxurious bathrooms.
Then, in 2017, Scirocco H embarked on a new challenge to engage designers, architects and young design talents even more in the world of radiators and towel warmers through the Design Warm Contest. This is the first and only contest in Italy that allows professionals and design and architecture students to compete together in the creation of an innovative designer radiator, for the chance to win category prizes and see their own project realized and launched to market. After the great success of the first edition comes the second edition, with almost 400 candidates from all over Italy and 23 other countries in the world well-known for their high design quality.